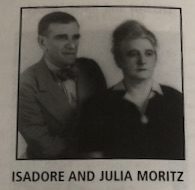 Home alumnus Isadore Moritz and his wife, the former Julia Bullock. This photo, which was reprinted in a 1998 in a commemorative book published by Temple Emanuel of McAllen, Texas, was provided by Harvey and Calvin Wolff, Isadore's grandsons.
Alsatian immigrants Samuel and Emma Moritz settled in San Antonio, Texas where they raised ten children. Shortly after giving birth to Isadore, Emma died. In 1884, Samuel admitted 1-year old Isadore and his six youngest siblings to the Home where Isadore remained for seven years. A note in the Home's registry described him as "a wild, disorderly child." As Isadore recounted in an autobiographical essay shared by his grandsons, "We were brought back to San Antonio to be at the bedside of our father who passed away shortly after our return."

After a childhood spent trying to "flee from the protecting roof" of his aunt and uncle, Isadore traveled the country stealing rides on freight trains. He later embarked on a thirty-year newspaper career back in Texas, including a stint beginning in 1906 as the city editor for the Brownsville Herald before establishing the Mercedes Enterprise, the second English language newspaper in the Rio Grande Valley, and then purchasing the McAllen Monitor and Willacy County News.
In his civic life, Isadore served as president of the McAllen Rotary Club, which he helped found, and served 50 years in Brownsville's Masonic Lodge of which he became a 32nd degree mason. He died in Brownsville in 1958 and was buried in the Temple Emanuel Cemetery in McAllen.