Admitted in 1887 from Fort Worth, Texas, with older brothers Abraham and Israel, Joseph Sonnenberg's description in the Home's registry as "disorderly" gave little indication of his later heralded life in law enforcement. Discharged to his remarried mother in 1891, Sonnenberg went on to enlist in the United States Calvary in 1904, serving stints in the Philippines and Panama Canal Zone, after guarding Geronimo and fellow Apaches whom the U.S. Army held as prisoners of war at Fort Sill, Oklahoma.
In 1925, he joined the New Orleans police department and quickly rose to the rank of captain, serving as pistol instructor and winning recognition within three years as "a man whose knowledge of pistols and marksmanship is second to none in the city."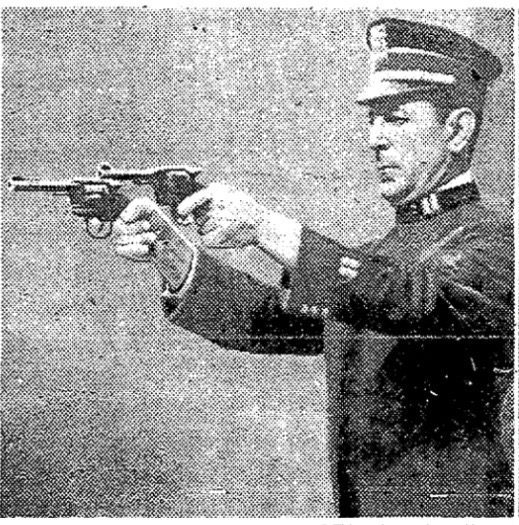 Captain Joe Sonnenberg, regarded as "the No. 1 man on many crack New Orleans pistol teams," received his training in pistols, machine, guns, tear gas, and first aid at the U.S. War Department school. New Orleans Item, May 31, 1946.

Captain Joe Sonnenberg, fourth from left, leads the New Orleans mounted police force as they line up before the Rex parade in 1946. Times-Picayune, April 21, 1946.
In addition to his marksmanship, Sonnenberg was equally well-known in New Orleans as the commander of the city's mounted police force, patrolling neighborhoods and riding for twenty-seven years in every major parade, including Mardi Gras, army and navy, and St. Patrick's Day. In 1946, Sonnenberg boasted that despite their high spirits, even in the thickest of crowds, his police horses (known as "Sonnenberg's pets") had never kicked, bitten, bolted, or even stepped on anyone.
Survived by his wife, Joseph Sonnenberg died in 1952 at age 68. An honor guard of seven police captains and an escort of mounted and motorcycle police accompanied his funeral cortege.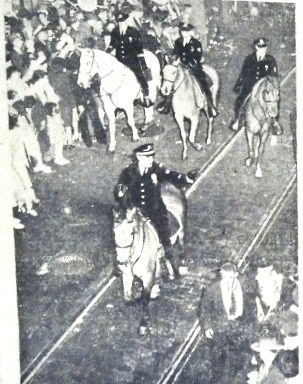 Captain Sonnenberg leads a night parade in 1946. Times-Picayune, April 21, 1946.