Rudy and Joe Bernstein
In 1892, identical twins Rudolph and Joseph were born to Samuel and Rosa Meyer Bernstein in Garland, Louisiana. Samuel ran a grocery store on a large farm owned by Rosa's father, Abraham Meyer. In 1896, when the boys were four years old, Samuel and Rosa separated. Unable to care for his grandchildren, Abraham Meyer admitted the twins to the Home with their older siblings Mary and Benjamin.
Joe lived in the Home until 1906, when at age 14 he was returned to his grandfather in St. Landry Parish. Rudy's discharge followed one year later, and he was placed in the care of other relatives in Concordia Parish, about 90 miles away. By 1915, the brothers returned to New Orleans where both went to work selling clothes in retail stores on or near Canal Street, and shared a room in a boarding house at Carondelet and Clio.
The brothers served in the military during the First World War, with Joe in the Navy and Rudy in the Army. After the war, the twins returned to New Orleans. Joe got married in 1920, and although Rudy stayed single, they all lived together. Rudy spent most of his life at Maison Blanche on Canal Street, selling men's clothing until he retired at age 75. Joe worked for several Canal Street clothiers, retiring after 25 years at the Krauss Company at age 80.
The brothers remained close, telling one interviewer they couldn't ever remember having had an argument. They both felt that the decade they spent in the Home gave them "a sense of security" and taught them "to be independent" and to take care of themselves which helped them throughout their lives.
Rudy died in August 1984, shortly before his 92nd birthday. He was followed in death by Joe just three months later.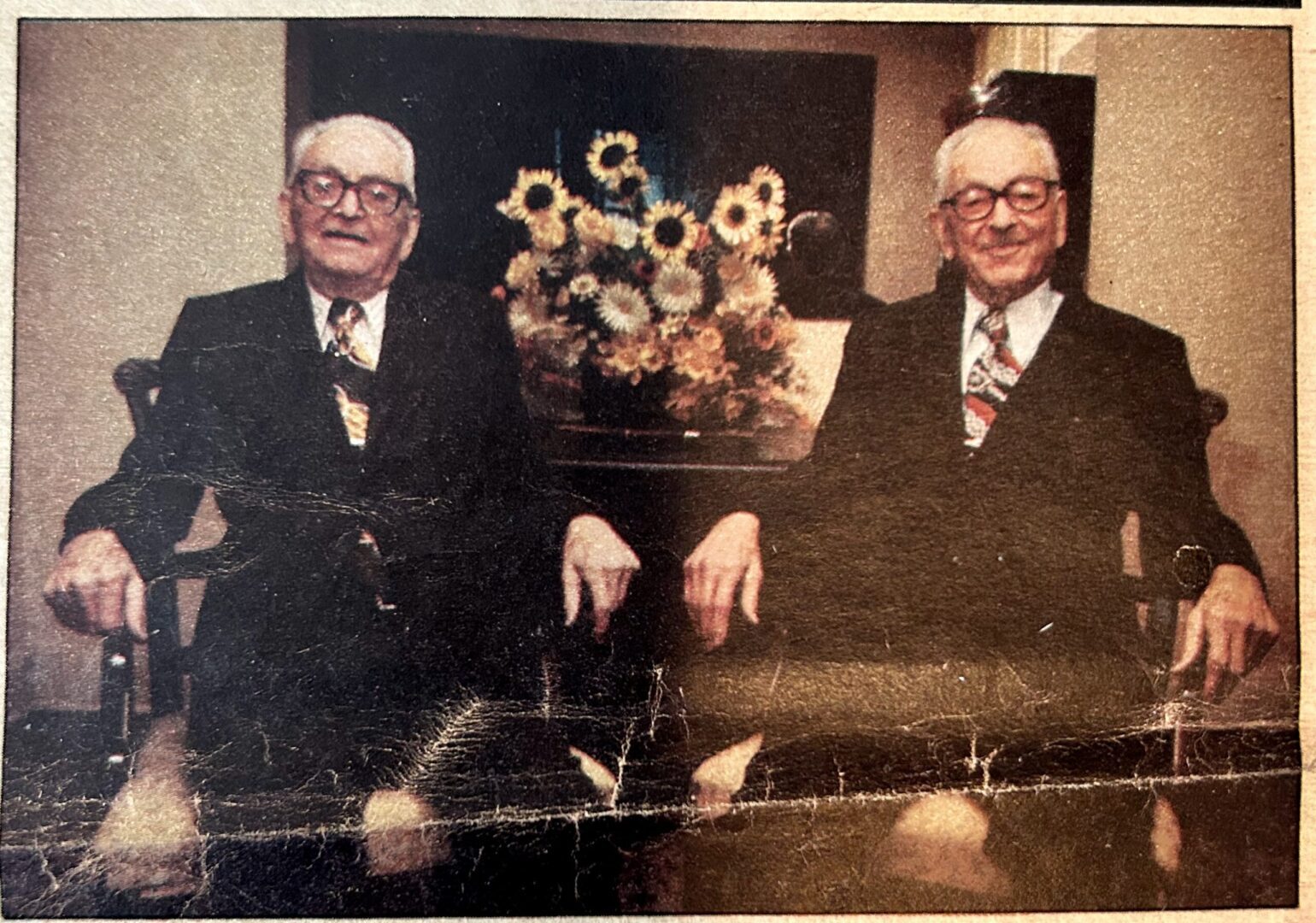 Rudy Bernstein, at left, with his twin brother Joe in 1983, when they were featured in an article, "Two Peas in a Pod," by Gregory Roberts in Dixie Magazine (Feb. 20, 1983). Photo by Ellis Lucia.